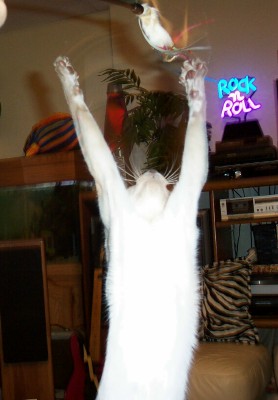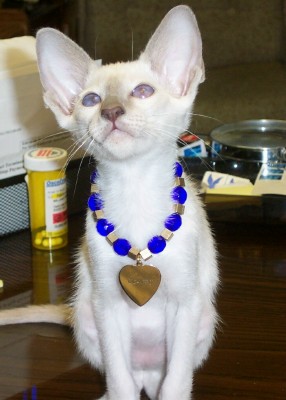 This is when I was very little

and  my fancy collar was too big.

I really love to play and jump as                 high as I can.

    Bill ordered me almost a year before I was born on 7/2/02 and he really wanted a siamese because of Gretta Gretta, the traditional siamese that came to his back door and wouldn't leave.  I am a "modern siamese" or some people call me a "show cat" because I am a very new breed. 

    When I was only about a year old Bill noticed that I had a very bad case of Gingivitis and we tried steroids and antibiotics to get rid of it but nothing worked.  He couldn't even brush my teeth without my gums bleeding so on the advice of our vet and the breeder I had to have all my teeth pulled.   I took it pretty well and I was pretty tough but the vet broke my jaw by accident and it had to be wired so it could heal.  That was tough but Bill comforted me and fed me with a great big eye dropper each day with food he put in the blender until I was full, and after only 2 weeks we got that wire thing out of my mouth so I could eat on my own.

   So I'm fine now and can eat almost anything.  Bill says I'm so sweet because I sleep with him every night under the covers with my head on his pillow just like him.  Things are great and I'm thankful that I have such a nice home.  Gretta Gretta and I are best friends and we play all day.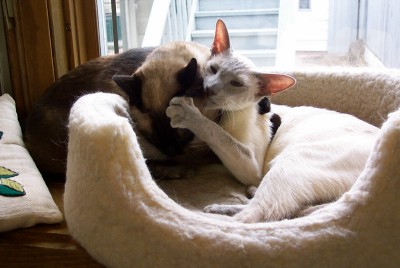 Here we are Squeeeezing each other real hard